Streamline your business with
Your business
best partner
Streamline your business with
Looking for a World Class ERP Solution?
SAP Business One Offers a reasonable way to Manage Your Entire Business As An Integrated Whole, From Accounting And Financials, Purchasing, Inventory, Sales And Customer Relationships, To Operations, Project Management And Human Resources.
about

us
Click erp services pvt. ltd.
Click ERP Services Pvt. Ltd. Is a Best ERP Software Solutions, leading software development company and SAP Partner. Our SAP Business One Solutions can help your business move forward faster. We are glad to tell you that we have a variety of satisfied clients in India or abroad. This means we have the skills, expertise and experience of delivering SAP Business One to many customers to assist you on your ERP journey.
Financials
The erp solution provides a complete set of tools to help manage and streamline your financial operations.
Stock Control
The stock capabilities of SAP Business One enable users to accurately manage inbound and outbound shipments, item master information as well as price lists.
CRM
The SAP Business One CRM sales cycle management functions record every sales opportunity across the customer lifecycle, from lead identification, through discovery, qualification, proposal, closure, and ultimately through after-sale service and support.
Purchasing
The ERP software provides your small business with the tools that it needs to handle its entire procurement process, including orders, receipts, invoices, and payments.
Sales
SAP Business One provides all the tools to help efficiently manage your entire sales process and customer lifecycle. From quotes to orders to deliveries to invoices, SAP Business One offers all the required functions to easily manage the whole order-to-payment process.
Services
The service management capabilities help service departments provide support for service operations, service contract management, service planning, tracking of customer interaction, activities, and customer support.
Reporting
SAP Business One offers extensive integrated reporting tools for the creation of business, accounting, warehouse, and financial reports, account statements, and creation of customized reports. Reports can be exported to a variety of different formats including Microsoft® Excel®, Microsoft® Word® and PDF.
Manufacturing
SAP Business One offers a simple yet powerful planning system that helps production planners or buyers schedule and manages items for production or purchasing based on a variety of criteria.
sap

business one
Click erp services pvt. ltd.
World's #1 ERP for Small & Medium Enterprises
Are you an SME or a fast-growing business and still looking forward to excel reports & multiple systems to manage your daily challenges? Well, it's time for you to think about ERP software for small businesses. Run your growing business on the foremost trusted, secure and complete ERP software within the world.
our

products
Click erp services pvt. ltd.
ClickERP offers a host of products in the area of Tax & e-file, Payroll and Accounts to automate every day things to do through the usage of the brand new engineering methods, equipment and techniques.
Saral Billing
Billing can be done easily using this software within fraction of seconds with choice to also use at billing counters.
Click Here
Saral Accounts
Accounts and Inventory software designed to fulfill the exacting requirement of complete functionality and therefore the users need for simplicity.
Click Here
Saral Paypack
The complete payroll solution, right from Attendance Punch to Payslip generation which is very customizable.
Click Here
our

testimonials
Click erp services pvt. ltd.
Very good organization in terms of managing their deliveries. Keeping customers in the highlight and no clear answer from anyone involved.
With Click ERP Services, you will knows what's happening in your business anytime, anywhere with real-time accounting, management.
Very nice machine, easy to handle and service for machine is very good, support team is very co-operative, specially Mr. Yogesh Kale. He is a perfect engineer for your company.
our

latest blogs
Click erp services pvt. ltd.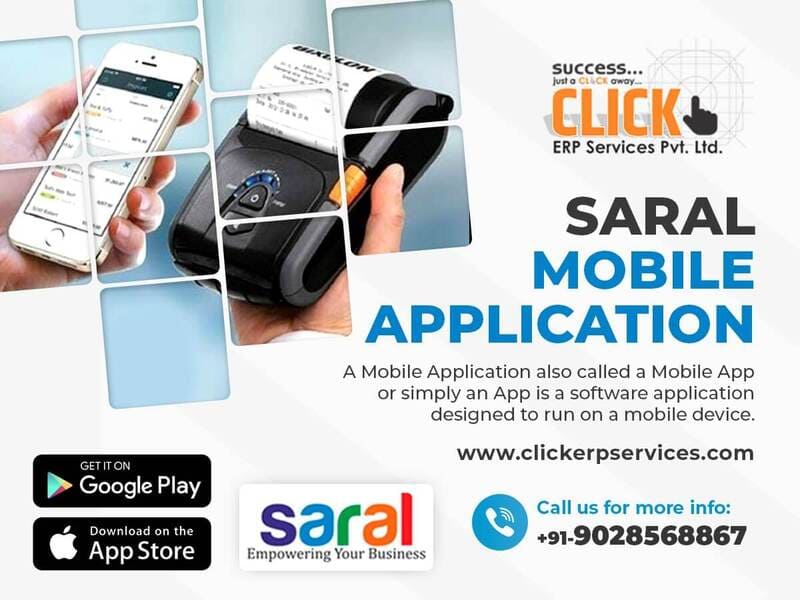 Saral Mobile App A Mobile Application also called a Mobile App or just an App is a software application designed to run on a mobile device. Nowadays, Mobile Apps have brought many changes into the marketplace including the way business is conducted. Today, we are heavily app-dependent and businesses of all shapes and sizes should …
Item with Alternate/ Multi-Unit Auto Conversion & Stock Management A unit of measurement is a quantity used as a regular for measurement of an equivalent kind of quantity. In addition to the base unit of measure, one may also use alternative units of measurement to manage items in several units. An item can have multiple …
Item with Alternate/ Multi Unit Auto Conversion and Stock management Read More »
Timber Inventory Management in Saral Billing & Accounts Timber refers to unprocessed wood which can be used to make wood products or within the development of buildings. Timber Inventory may be a part of inventory management for managing stock of Timber products. Timber inventory is often managed supported various sorts of timber sort of a …
Timber Inventory Management in Saral Billing and Accounts Read More »